Corporate Banking
Corporate Banking Division is AIB financing and underwriting arm that provides best in-class financial structures and advisory services to its clients.
Corporate Banking caters to the financing needs of small , medium & large companies.
The Division's foremost goal is closely aligned to advancing the national economic development. Accordingly, it is committed to closely monitoring the performance of the projects and economic entities that AIB finances to ensure their viability. It believes that economic viability on the micro level is certain to contribute to promote macroeconomic welfare.
The Division's mission is to enhance its position to be one of the leading corporate banks in the Egyptian market, while maximizing value for its shareholders, employees and the community.
It focuses on cross-selling activities to capture new business and expand AIB's market share.
When Clients turn to one source for all their financing needs, they'll save time and money and enjoy financing that is targeted to their needs.
With AIB, clients will get the right financing for their business, when and how they need it. We'll help them with financing for seasonality, growth, cash management, consolidation, international and domestic market expansion, acquisitions, receivables and any other financing that will help their business thrive.
The following financing options are available: Project and Export Finance, Syndicated Loans, Structured Finance, Overdrafts, Short Term Loans, Bills Discounting, Tender Bonds (Bid Bonds), Performance Bonds, Advance Payment Guarantees and Maintenance Bonds (Retention Money Bonds).
The Corporate Banking competitive advantages include:
• Strong customer base with a healthy and diversified portfolio that is well positioned in primary growth industries including, but not limited to: Oil and Gas, Power, Petrochemicals, Infrastructure, Food and Agribusiness, Tourism, Shipping and Ports.
• Ability to provide a wide and innovative array of financing schemes.
• Expanded scope of corporate customer base creating potential future growth opportunities for the Division.
• Sound experience in the arrangement of a number of successful structured financing syndicated transactions in Egypt across various economic sectors that catered the needs of large corporates and institutions , through the various roles as a Mandated Lead Arranger "IMLA", Lead Arranger, Facility agent and /or Security agent.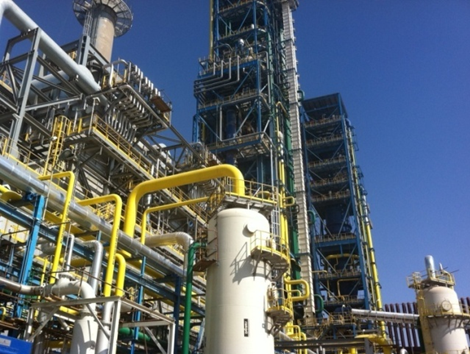 Awards:
• In February 2013 , Arab International Bank has been awarded a Project Finance Deal of the 2012 Year Award from Euromoney:
African Petrochemicals Deal of the Year – ETHYDCO
Arab International Bank , through Corporate Banking , being a Co - Initial Mandated Lead Arranger " IMLA" in the Multi-Currency Syndicated long term facility of USD 1.25Bn in favor of The Egyptian Ethylene & Derivatives Co. "ETHYDCO" agreement dd. September 30th, 2012. The Construction and furbishment phases were accomplished successfully in due time. The Project was inaugurated by a large celebration attended by his Excellency the President Abdel Fattah el Sissi in August 2016 and was The opening ceremony was broadcast by local and international news agencies.
• In 2011, The Banker Magazine has awarded the Multi-Currency Syndicated long term facility of USD 600MM in favor of Suez Steel company agreement dd. 1 April 2010 "Deal of the Year 2011" for the Infrastructure & Project Finance category for the Middle East.

AIB Corporate Banking Group has participated in arranging the deal as a Co - Initial Mandated Lead Arranger "IMLA". The Construction and furbishment phases were accomplished successfully. A strategic investor offered to acquire a majority stake in the company. The deal was concluded and the loan was prepaid in November 2016.